Airtel Winter New Internet Offer 15GB 30 Days Tk222! Airtel provide great internet offer in the winter on friends network, Bangladesh airtel mobile operator company always give best and customer satisfaction offer, Airtel new deal 15GB only Tk222.
Recommended: Airtel 4 Tk 250MB Internet Offer Unlimited Time
There is also a piece of good news, validity 1 month (30 days), The offer can be applied to any Airtel customer, but not everyone can get the winter offer.
Airtel 2019 new internet package with 30 days validity, users can avail this offer by dialing and recharging the offer.
More: Airtel 3GB 12Tk New Offer 2019 (Facebook & Instagram)
In order to receive the offer, we will provide you with the following details.
Airtel Winter New Internet Offer 15GB 30 Days Tk222 Full Information: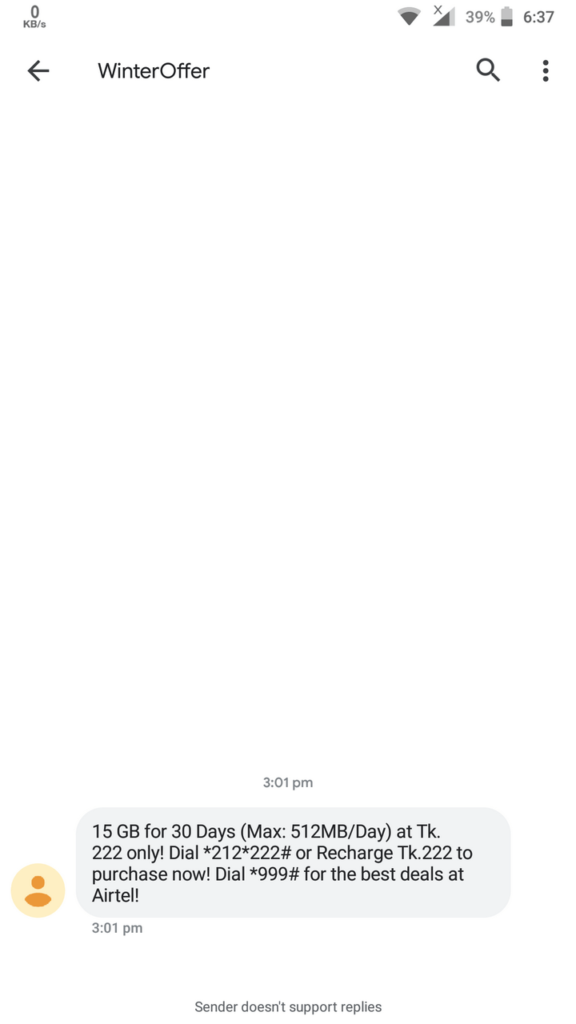 Only Airtel selected customers eligible this offer.
15GB at Tk.222/-
Validity is 30 days.
Using hours: 24
To activate this offer you need to dial, *212*222#
You can activate this offer by Tk.222 exactly recharge.
Make sure this offer eligible for you or not by dialing *999#, before the recharge.
Daily data use limitation is 512Mb.
Data checking code is *3#
Your maximum daily limit 512 MB internet.
Offer limitation time.
Special Offered For You:
Share this content on Facebook, Google Plus, and others social media.