Today we going to share "Fire Service and Emergency Number BD" sometimes we are facing a very much dangerous situation, For example, fire, crime, accidents, many more problems…
Also: Check Valid Phone by BTRC, Legal Mobile IMEI Justify 2020
if you're facing any dangerous moment for example. fire, accident, crime-related activity, please call the 999 number to inform the police, ambulance, or fire service.
Bangladesh national emergency services phone number is "999" The call center is open 24 hours (24/7). Calling 999 free from any mobile operator number.
Emergency Part:
Fire Service BD phone number: 999 (Toll-Free)
Police: 999 (Toll-Free)
Ambulance: 999 (Toll-Free)
Health-Related: Call; 16263 (Managed by the Ministry of Health)
Women and children tortured: Call; 109 / 10921 (Free) This program is being run under the Multisectoral Program for the prevention of women's repression under the Ministry of Women and Children Affairs.
National identity card: Call; 105 (Anyone can call the 105 number to get the necessary national ID card information.)
Bangladesh Bank: Call; 16236 (This is the Bangladesh Bank helpline, If you are harassed or have any complaints in banking services, then it can be directly reported to the Bangladesh Bank at 16263)
See the necessary (Emergency) numbers for the following table content…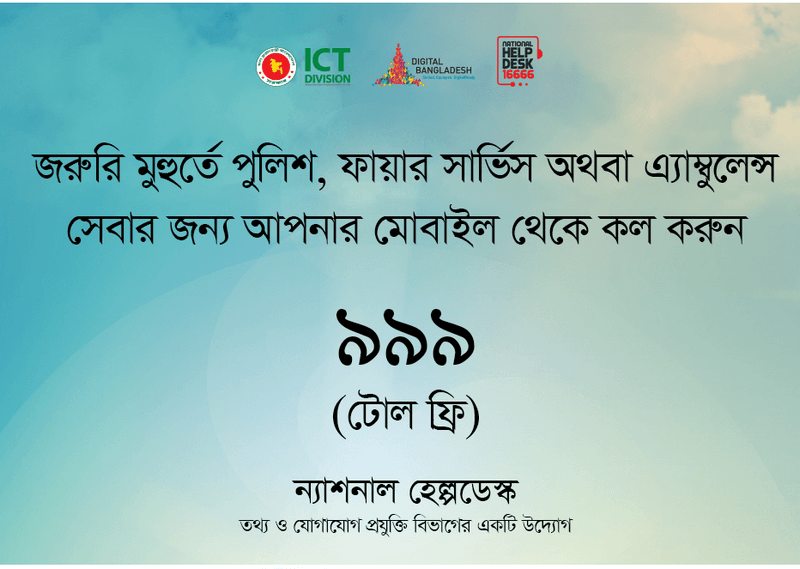 Fire Service and Emergency Number BD (Call Now)
Check: How many SIM registration is done with your NID? (Update 2020)
Bangladesh Government Service Helpline Numbers,
| | |
| --- | --- |
| Name of Services | Number |
| Fire Service | 999 (Free) |
| Police | 999 (Free) |
| Ambulance | 999 (Free) |
| Health Ministry Helpline | 16263 |
| Anti-Corruption Commission | 106 |
| BTRC | 100 (Free) |
| National identity card | 105 |
| Women and children tortured | 109/ 10921 (Free) |
| Child Help Line | 1098 (Free) |
| Government law services | 16430 (Free) |
| Union Parishad Helpline | 16256 |
Bangladesh Fire Service and Civil Defence Head Quarter
38-46, Kazi Alauddin Road, Dhaka 1000
+88 02-9555555
Web: fireservice.gov.bd
Map Link: View Map