Robi brings a special internet offer for the reactivation Sim; This offer is also called Robi Bondho Sim offer, Robi Winback offers, Robi silent Sim offer. The Robi gives 101Tk 10GB internet bonus, it's a fantastic offer for Bondho Sim. Also, get 48tk recharge 3GB with 75 minutes talk-time.
See: Robi Minute Pack Offer 2021- List of All Bundle Offer
Dear visitor, if you have any Bondho (reactivation) Sim, please check your status you will get this offer or not! Because of 10GB at Tk101 internet offer eligible for only selected Bondho Sim customers.
Robi June 2021 Bondho Sim offer, Robi Bondho Sim internet 10GB offer  2021 details here, Robi Winback offers 2021. You Can Check All Robi Offers Here
To know Robi Bondho SIM Offer 2021, 10GB Internet @Tk101 Validity 30 Days full information, Please follow this content.
Also: Robi Reactivation SIM Offer 2021 (Bondho SIM)
Robi Bondho SIM Offer 2021, 10GB Internet @Tk101 Validity 30 Days Info:
Return Robi's 4.5 G Network and enjoy 10 GB @ Tk101 for 30 days.
3GB with 75 minutes at Tk48 recharge:
3GB internet, 2GB regular data, and 1GB 4G network.
75 Minutes talk-time all operators.
Validity this offer 7 Days.
To check the internet balance dial, *3#
for minutes check *222*2#
10 GB @ Tk101 recharge
Total 10GB @Tk 101.
5GB for any use.
5GB for use only in 4G.
To activate this offer customers need to recharge BDT 101.
The validity of data volume for 30 days.
You can use for 24 hours.
Dial *3# to know your remaining data volume.
Terms and Condition Bondho SIM
To check eligibility, Robi subscriber can send free SMS from any Robi number in the following method: A018XXXXXXXX to 8050 or can dial *8050# put Bondho Sim number by the next instruction.
This offer will continue until the next notice.
Subject to the permission of the competent authority, Robi can change or edit the offer at any time.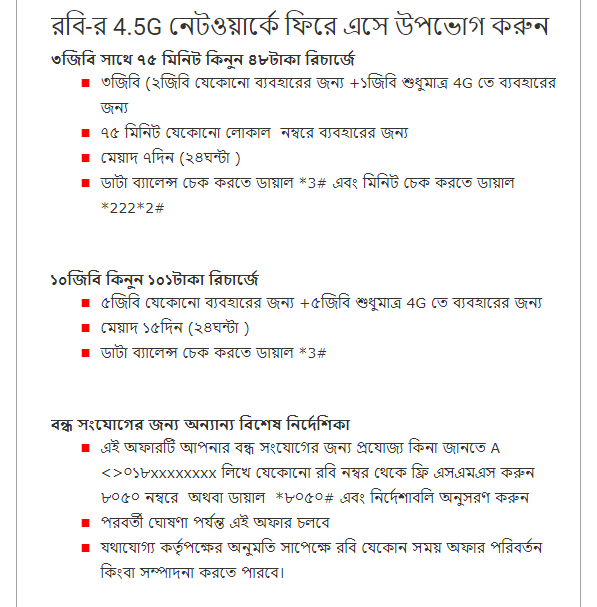 Note: This offer only can enjoy selected customers under Bondho Sim. Offer source Robi official webpage.