Bank Asia Job Circular & Career 2022 (Apply Today)! Bank Asia Limited has issued a new employment recruitment notice on their own website, eligible candidates can apply for bank jobs by 2022.
See: City Bank Job Circular 2022
Bank Asia Limited is a private bank, Bangladesh's journey to Asia was started in November 1999. If the bank wants to build a career in Bank Asia, then definitely apply for this job.

Bank Asia Job Circular 2022 Summary:
Management Trainee
Location: Anywhere in Bangladesh
Deadline: _____
Time: Full Time
Job Areas: Marketing & Sales
Type of Employment: As per circular
Salary: circular
Age: 30 Years
Check: Lanka Bangla New Job Circular 2022 (Apply Now)
Bank Asia Job Circular & Career 2022 (Apply Today) Full Info / Notice: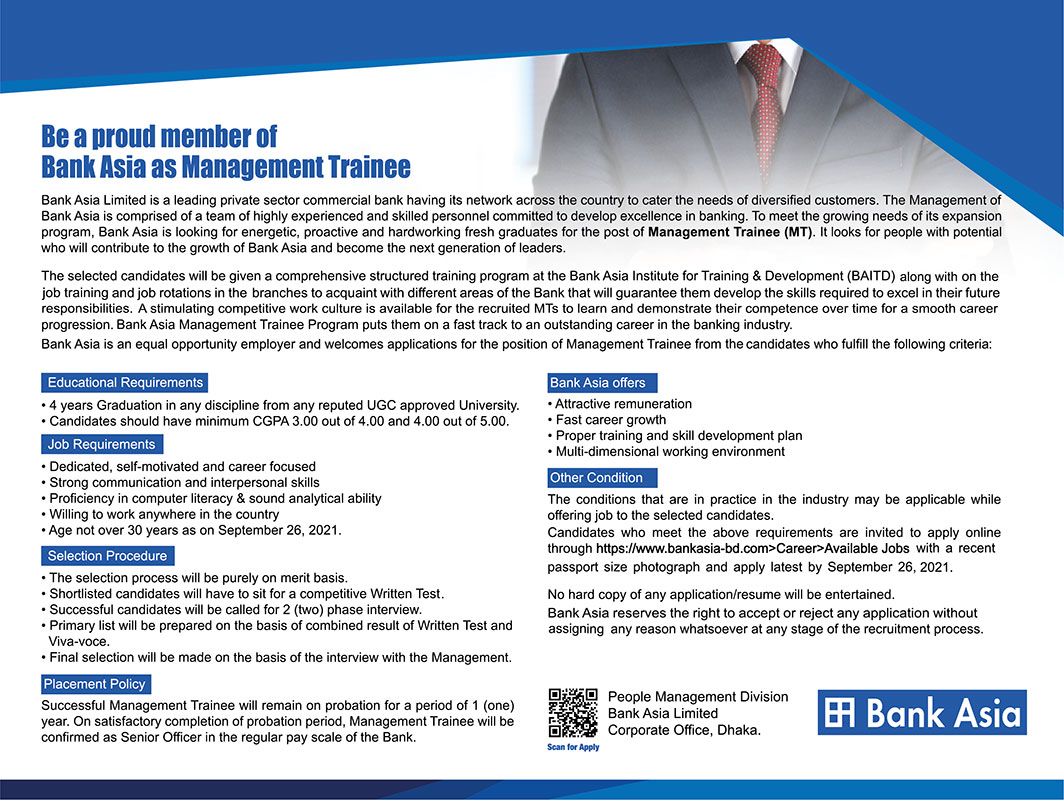 If you want to apply for this job in Bank Asia, then you must read the following notice very well or else there will be problems.
Qualifications:
Age below 30 years
Computer literacy is essential.
4 Years graduation in Business Administration / Economics/ Accounting/ Finance/ Management/ Marketing/ math/ English/ Engineering/ statistics/ IT from a reputed University having no third class/division or CGPA is not less than 2.8 in academic career. Geographic mobility and flexibility, willing to work anywhere in the country.
Must be proactive, self-motivated, Target oriented, able to work under pressure, and able to meet the deadline.

Bank Asia Job 2022 Apply Now
More job news Mobile offers stay with our website to get various updates including the price of the smartphone.
More: BRAC Bank Job Circular Available (Career 2022)
This job news has been collected from Bank Asia's own website.