Daraz Bangladesh Limited is one of the successful online markets in Bangladesh, Daraz Bangladesh Limited is taking new employees in different positions, People who are interested in working for this company are advised to read the following descriptions and apply for the job.
Currently, Daraz is an established company in Bangladesh, so you can get a reliable job in any post in this company.
See: Banglalink Job Circular 2022, BL New Jobs Available
Daraz Job Circular 2022 Summary:
Organization Name: Daraz Bangladesh Limited
Post Name: Contractual
Vacancy: 15+
Age: 18 to 35Years
Gender: Male
Education Experience:
Salary: Tk. 10,000+ (Monthly)
Work Place: Dhaka, Tejgaon
Experience: 02 years
Job Type/ Time: Contract-based
Last Date of Application: 22 October 2022
Also: IDLC Finance Job Circular 2022 Large Job Posting IDLC
Daraz Job Circular (Daraz Bangladesh Career)
Job Responsibilities
Company goods have to be transferred from one office to another.
Supervise loading and unloading of goods.
Authorities must be notified of all types of vehicle maintenance and regular servicing.
Vehicle documents must be properly maintained and the vehicle must be driven in compliance with traffic laws.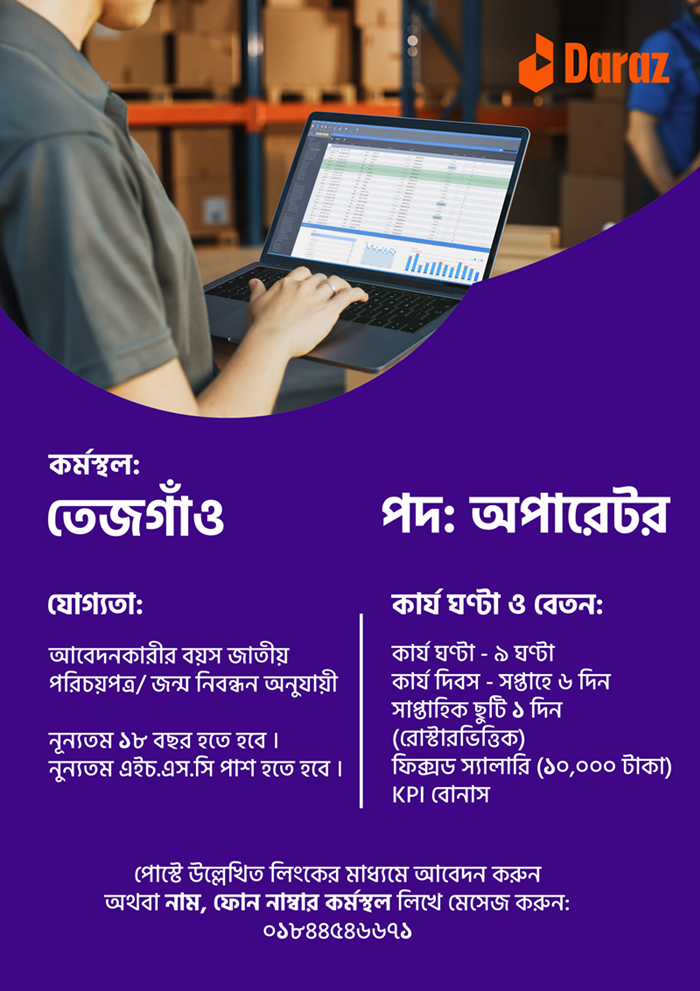 Daraz Job Circular Apply
Applicants are requested to submit their CV, Voter ID Card, and Photocopy of Driving License by 20th June 2022 directly or by post to the following address.
Address: Daraj Short Center (Reception): 269-262, (on the other side of Tenjgaon Quarter School), Tejgaon Shi / A, Dhaka. Mobile: 017445471, 0174454827
Last date of application: 22 October 2022