Hi, Today we going to share "How To Apply Teletalk Bornomala SIM" A special SIM package Bornomala for SSC students. All students passed SSC from 2005 to 2018 will be able to apply for the Bornomala SIM card.
Check: Teletalk Agami Internet Package 2022 (A to Z)
The following documents are required for sim withdrawal
SMS withdrawal message by Teletalk
Two copies passport size photo
Photocopy of Bangladeshi national identity card (NID)
Biometric registration
Teletalk Bornomala SIM buying guide 2022, How to buy Bornomla sim, get Teletalk Bornomla Sim.
Also: Teletalk SMS Bundle Pack 2022 (All SMS Pack)
Teletalk Bornomala sim package is very special because the sim card always get the lowest call rate with internet package, you can check all internet package by 'Click Here'
How To Apply Teletalk Bornomala SIM 2022?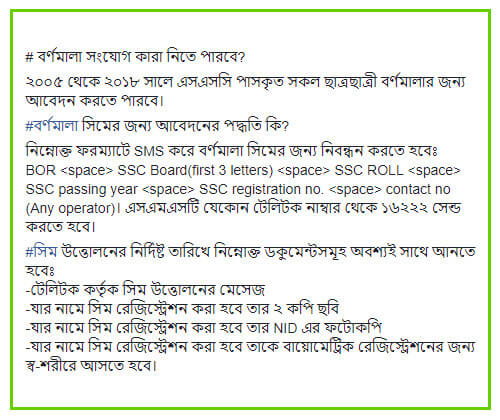 You must be SSC passed student from 2005 to 2018.
Please send a message by following the SMS format.
BOR <space> SSC Board(first 3 letters) <space> SSC ROLL <space> SSC passing year <space> SSC registration no. <space> contact no (Any operator) Sent it to 16222.
Teletalk More Offers: