Banglalink All SMS Pack Any Operator (BL to Any) Exclusive Update! Friends, Banglalink's SMS packs are completely new and updated in 2023, Banglalink has already published three new SMS bundle packages. These SMS bundles are applicable to any operator.
See: GP ALL SMS Bundle Pack- GP SMS Offer 2023 (25,100,500, Unlimited)

Banglalink bundle packages can be used in the long term. These SMS bundle packages are valid for three types, #1 bundle package expires 30 days, #2 bundle 15 days and the #last bundle package expires 7 days.
Banglalink use can send a message to any operator at the lowest price by buying the Banglalink SMS bundle.
We think that if you have more messaging with someone, then you should buy a Banglalink SMS pack.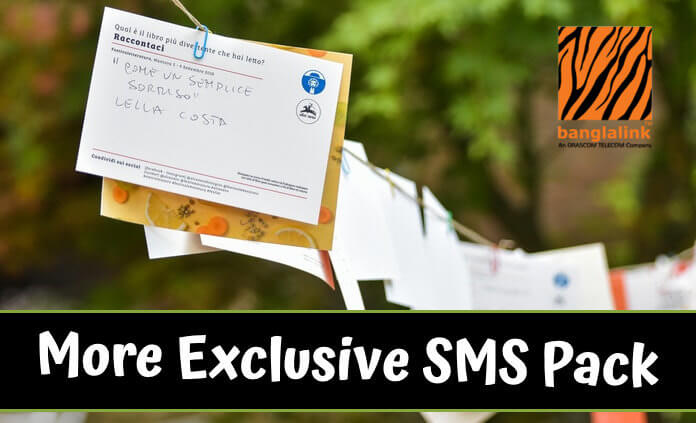 Only 3Tk Banglalink 30 SMS Pack: Validity is 3 days, to activate just dial the code *121*1013#.

Tk.7 Banglalink 70 SMS Pack: Validity is 7 days (1 week), to activate dial the code *1100*9*3*1#.
Also: Robi SMS Bundle Package Offer List 2023 (All Pack) Exclusive Update
200 SMS Pack@Tk.15: Validity is 15 days, to activate this SMS pack simply dial *1100*9*2*1#.
Banglalink's new and very exclusive SMS package has been as published, now a more powerful SMS bundle offer in OfferBuild.
A more powerful SMS Pack Is Coming Soon, Please Stay Connected with Us.
Tk.30 BL 500 SMS Bundle Pack: Duration is 30 days if you want to activate this SMS pack just dial *1100*9*1*1#.
Banglalink All SMS Pack Any Operator (BL to Any) Details:
| Price | SMS | Validity | Activate |
| --- | --- | --- | --- |
| Tk.30 | 500 | 30 Days | *166*305# |
| Tk.15 | 200 | 15 Days | *166*15# |
| Tk.7 | 70 | 7 Days | *166*770# |
| Tk.3 | 30 | 3 Days | *121*1013# |
100 on-net SMS Bundle, Price Tk. 5 ( Including all charges), validity 1 day with activation date. To buy one time please dial *222*8#, To deactivate dial *222*9#.
All prepaid and Call & Control customers are eligible for these offers
Dial *124*17# or *124*33# to check your SMS balance.
Once pack validity expires, unused minutes/SMS/internet cannot be used anymore.
SMS can use by any local operator.
24 hours can use.
Exclusive SMS offer stoping code *222*9#
You have limited time offer.
SD, and VAT, Included in the price.
Source: Banglalink