Airtel Boishakhi Offer 1426 MB Data at Tk 20! Hello visitors, today we share Airtel Bangladesh recently run Boishakhi internet offer 2019, Airtel provides 1426MB at Tk 20 with 30 days validity it's an amazing opportunity.
See More: Airtel 50 SMS Offer All Number Tk2 (Send SMS 2019)
Airtel all customers will relish Boishakhi internet offer 1426 MB for 30 days at Tk 20, validity 30 days 24 hours can use this data.
Bangla Noboborsho Airtel BD Internet offers 2019, Airtel 1426MB Internet new offer 2019, Airtel 20Tk Boishakhi Offer 2019, Airtel Bangladesh 1426 MB Offer code 2019.
Check: Airtel 7GB Internet Offer at Tk 179 Validity 10 Days
So, don't miss your offer, if you want to Airtel Boishakhi Offer 1426 MB just read this content and enjoy Boishakhi.
Airtel Boishakhi Offer 1426 MB Data at Tk 20 Info:
This offer will enjoy Airtel special customer.
1426 MB @Tk. 20
Validity 30 days.
To activate this offer just dial, *21291*20#
1426MB validity 30 Days. (after activation)
Usage time 24 hours
The customer can use this data 2G/3G/4G network.
1GB 4G data can use 2G/3G network but at first, 1 MB use from the 4G network.
To check the remaining data volume need to dial, *8444*88#. / *3#
The Boishakhi offer will run until further notice.
The customer can buy Only with USSD.
All price includes VAT, SC & SD.
Airtel Boishakhi Offer: 02 (All Customer)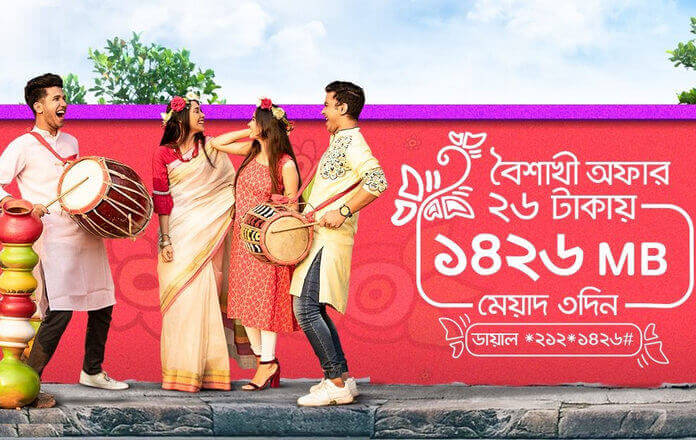 1426 [email protected]
This offer can enjoy all Airtel subscriber.
To activate this Boishakhi MB pack dial *121*1426#
Validity 3 days.
Dial *3# to check the net balance.
Limited time offer.
Multiple time enjoy this offer.
Thanks a lot of thanks for the visiting our OfferBuild blog, also thanks for staying with us a long time, if satisfied Airtel Boishakhi Offer 1426 MB Data at Tk 20, please #SHARE this content on Facebook.