Mobile Recharge Cashback by bKash App 200%! bKash the largest mobile banking service in Bangladesh. Recharge Tk.25 from the bKash app gets 200% cashback. bKash new mobile recharge offers 2020.
See: How To Pay Palli Bidyut Bill by bKash 2020 (Free)
Recharge self mobile number by bKash and get big cash back bonus offer. The first time a bKash customer mobile recharge of Tk 25 with the app, he will get the offer.
Mobile Money Recharge or Send Money With bKash App, you will get 16 Taka Instant Cashback! So now charge 16 Taka mobile recharge or send money with the app. A customer will receive cashback once during the offer. The offer will run until the next notice.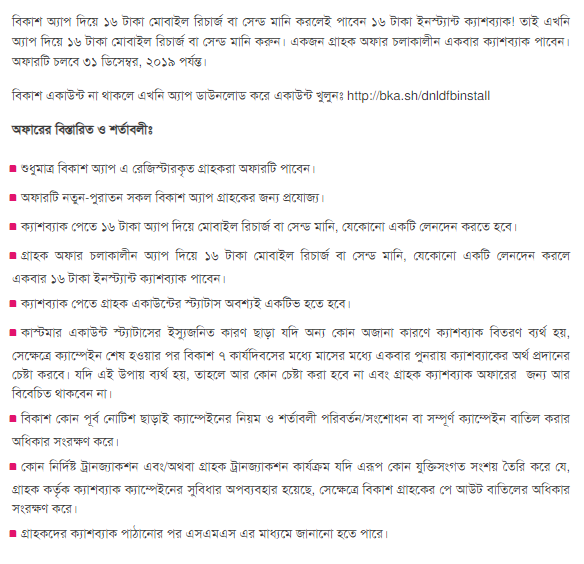 The recharge amount should be BDT 25, after recharge 25 Taka you will get 200% cashback. Tk 50 will cashback offer to accept bKash first-time app users with the first-time recharge.

If you recharge 2020 from bKash any amount you can't get this cashback offer.
Check: Nagad New Mobile Banking Transaction Limit
The cashback offer will be able maximum 1 time, after a one-time recharge you can't get the cashback bonus offer.
Mobile Recharge Cashback by bKash App 200% Summary:
bKash 200% mobile recharge cashback offer Tk.50
A self-mobile number cashback bonus will be able.
Maximum 1-time can get this recharge cashback.
You must recharge by the bKash app.
bKash can turn off or change this offer at any time.
The campaign is running from the next notice.
Cashback Tk will get the next working day.
A customer will receive cashback once in a day.
Customers will receive cashback three times during the campaign period.
Check Out New Article
Source: bKash