How To Pay Palli Bidyut Bill by bKash! Friends, today we will share how to easily pay Polli Bidyut bills through bKash. There is no additional charge for payment of bills through the bKash app.
See: bKash Send Money Offer, Send Money FREE Up to 500 Taka
On July 9, 2018, the bills service started, and now the bKash Palli Biddut Bill service is very popular with the people.
To get the bill payment option from bKash, dial *247# and select the '5' option okay.
A maximum of two Palli Bidyut (rural electricity) bills can be paid through a personal bKash account.
Recommended: Nagad New Mobile Banking Transaction Limit
You can check the electricity bill daily 5 times and monthly 50 times in a bKash account.
We highly recommend paying bills through the bKash app, the bKash app is very easy and absolutely free.
How many electricity bills can I pay for free?
Every month a customer will be able to pay the first 2 electricity bills for free from the bKash app.

If you want to pay Palli Bidyut (rural electricity) bills from the bKash USSD menu then follow the picture below.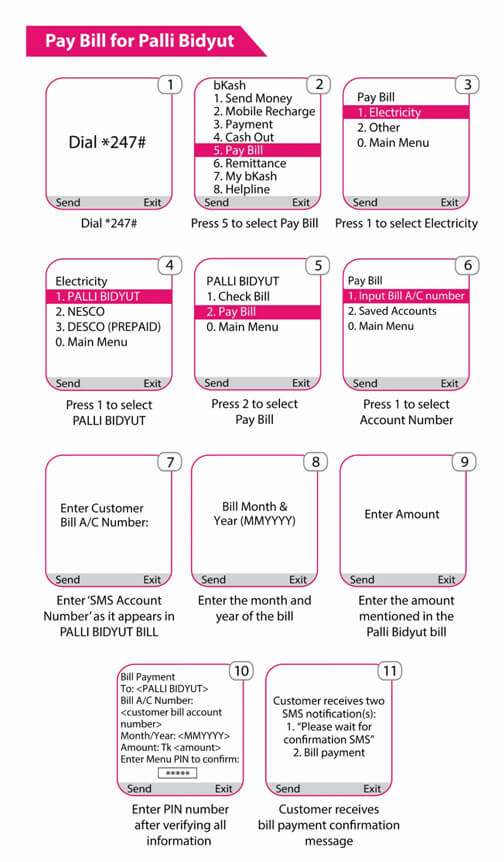 A bKash customer will get the following benefits from the Pay Bill service
Check Bill: A customer will be able to check the amount of the bill payable.
Pay Bill: The customer can pay his bill according to the requirements of the bill and details of the applicable bill.
Beneficiary: You can use/add/cancel / benefit for different billers etc. for the convenience of customer billing.
How To Pay Palli Bidyut Bill by bKash 2023(Free)
How To Pay Palli Bidyut Bill by bKash 2023 (Free) Video
Download and install the bKash app from Google Play Store.
Open your bKash app then update your profile information.
After opening the app select 'Pay Bill'
Now select 'Palli Bidyut Bill'
Type your Palli Bidyut Bill Account number
Check your bill amount and the last date then confirm.
Confirm your bKash 'Pin Number'
Hold Tab to confirm your Bill.
You will receive a confirmation message.
Done
How To Pay Palli Bidyut Bill by bKash 2023 (Free) Video