Nagad New Mobile Banking! Nagad is the digital financial service of the Bangladesh Post Office. For the first time, mobile banking was started by the government of Bangladesh. Nagad is a dynamic and secure digital financial service.
See: Islami Bank Balance Check, How to Know IBBL A/C Balance SMS
A Nagad customer can transact very source. The Nagad customer can make more transactions from all other mobile banking.

Nagad client will be able to make a single transaction of Tk 50,000 and a maximum of Tk 250,000 in 10 transactions per day. Withdraw constant quantity through the constant range of transactions per day within the mobile wallet.
Nagad Cashout Charge
The Nagad cashout charge per thousand Tk.9.99 this is the best price cashout in Bangladesh.
So, this is the best opportunity for Bangladeshi people. The Nagad Banking service already started you can check your nearest city, town, and Bazar.
Right Now Nagad Services Available:
CASH IN (deposit money into your Nagad account from any Nagad Uddokta point)
MOBILE RECHARGE
SEND MONEY (personal to a personal transaction)
CASH-OUT (withdraw money from your Nagad account from any Nagad Uddokta point)
Payment (Coming)
Nagad New Mobile Banking Transaction Limit Info: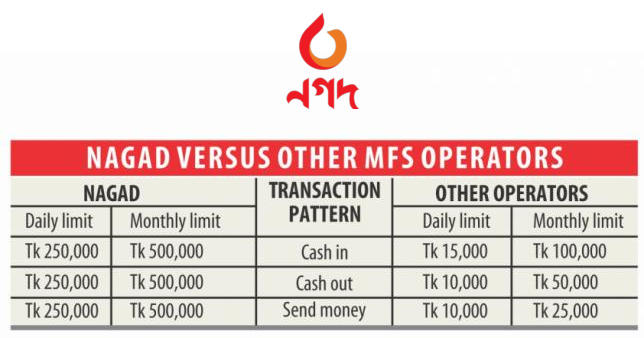 Go to the nearest Nagad Uddokta point.
NID (National ID)
Passport size photo
Your mobile phone
Done
What is Menu Code USSD:
The customer will control Nagad account by using the application, Nagad app works fastly. We recommended using the smartphone app.
Download Nagad Beta App (Person)
Nagad Help Information:
Official website: nagad.com.bd
Helpline: 16167 or 096 096 16167
Email: [email protected]
Head office: Delta Dahlia Tower (Level 13 and 14), 36 Kemal Ataturk Avenue, Banani, Dhaka -1213